Updated – questions and answers now linked
Over the two nights 204 year 7 & 8 teams and 180 year 9 & 10 teams  from 93 schools took part in this years' Mathex competitions. That's a lot of young mathematicians.
Huge thanks to everyone behind the scenes and on the night that helped get the teams here and the Mathex Competition underway. A special thanks to Gillian Frankom-Burgess who was determined that our students got to be part of Mathex in this crazy year.
All teams competed furiously, their runners ensuring a quick turnaround of the questions.
Teams have 30 minutes to answer 20 questions.
Want to see how well you would do ? View the questions and answers
Year 10 competition
Year 10  winners St Kentigern College A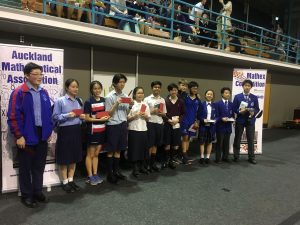 Emma Ying
Eric Liang
Eric Lee
Orlando Ye
2nd Botany Downs Secondary College
3rd Macleans College
Year 9 competition
Year 9 winners : Macleans College
Andrew Chen
Raymond Zhang
Yixue Yang
Jesse Zhang
2nd Auckland Grammar
3rd Kings College
Year 8 competition
Year 8 was the most hotly contested of the competitions with a 4 way tie for 3rd place.
1st  ACG Parnell
Aran Chen ( Runner)
Daniel Xian
Kino Shi
Minu Park
2nd  Remuera Intermediate
3rd Buckland Beach Intermediate narrowly from Sommerville Intermediate
Year 7 competition
1st Bucklands Beach Intermediate
Wesley Lau
Hugo Zheng
Richard Tao
Sophie Tao
2nd  Takapuna Intermediate  
3rd Bucklands Beach Intermediate
Certificates of participation can be downloaded from the Mathex page
The questions from this years competition are here