Ministry updates from the end of 2022
Assessment report published for September Numeracy CAA. View 
Exemplars of responses for outocme three of the Numeracy Unit satndard. Explain … View 
Revised Level 1 matrix for Mathematics and statistics Pilot has been shared. Download
Our 2023 Calendar. If you have events to be included please email kaiarahi@aucklandmaths.org.nz
Resources from
In a recent email from Maths Teachers Circles a reminder of routines that could be used throughout the year to help students gain confidence in sharing ideas and help them justify their thinking. In light of the requirements of Outcome Three in the numeracy CAA, Explain the reasonableness of mathematical and statistical responses to situations in writing, these might prove useful idea generators.
Each of these routines is:
Easy to set up (no special equipment required)
Brings new insights and confidence when used repeatedly
Suitable for a wide range of students
Designed to help students think logically and justify their ideas, which is at the heart of mathematical thinking.
These routines will help your students to articulate their ideas, form connections and more quickly grasp important maths ideas.
In no particular order here are five to start. If you have favourite routines please email through to admin@aucklandmaths.org.nz and we will share
1. Visual Patterns
With hundreds of patterns curated by Fawn Nguyen , you can  build algebraic thinking and examine the links between pictorial and abstract forms as they describe how the patterns grow
Get started with Visual Patterns at https://www.visualpatterns.org/
2. What's The Split? & Why did you split them this way?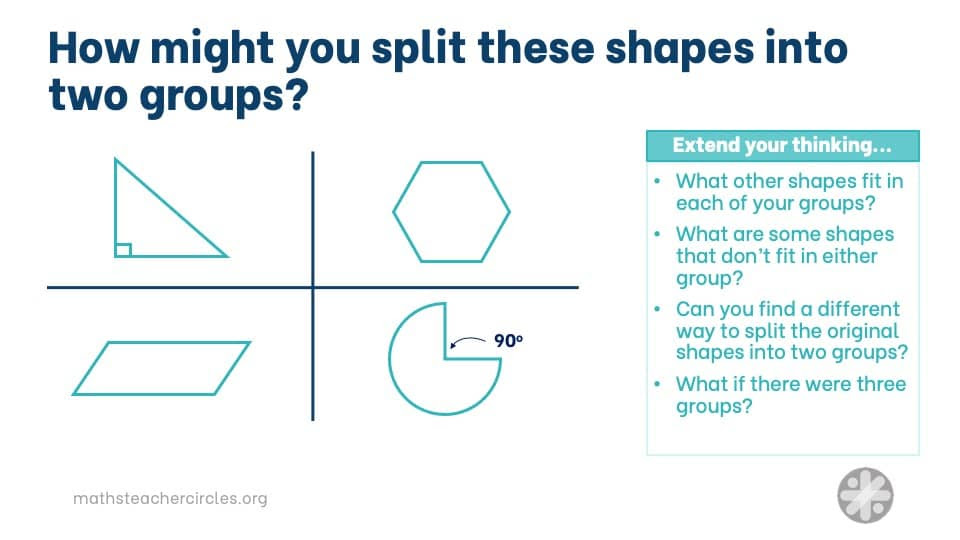 Find collections of graphs, numbers, shapes at  wodb.ca
3. Open Middle
Select problems from across the curriculum and give your students the freedom to choose from multiple strategies and paths to a solution.
Get started with Open Middle at  https://www.openmiddle.com/
4. What's Going On In This Graph?
From The New York Times all sorts of graphs that you can use to develop data literacy
Get started with What's Going On In This Graph by watching the tutorial at this link
5. Same But Different
Students will sharpen their observational skills and conceptual understanding, by comparing and contrasting the features of numbers, shapes and other mathematical objects.
Get started with Same but Different y scrolling down this page: https://www.samebutdifferentmath.com/
Tips for getting started
After observing thousands of teachers lead and participate in maths routines like these, Michaela learned these things
Start simple: This encourages all students to get involved and become familiar with the routine.
Stay neutral: Create a safe space for students to contribute and take risks.
Make it short and keep coming back: Short, regular bursts build skills and confidence over time.
Write what students say: This helps strategies to be shared and understood, with less for students to hold in their head.
Photo by engin akyurt on Unsplash